Closing Play: Sunday, February 19, 6-7:30 PM
That Dorothy Parker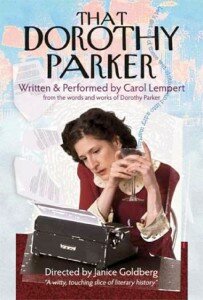 That Dorothy Parker, 85 minute one act, is a one-woman biographical drama about the life and work of the famous writer Dorothy Parker. In addition to Dorothy, Carol plays half a dozen other characters including Alexander Woolcott, George S. Kaufman, Ernest Hemingway, Edna Ferber, and Robert Benchley.
A memory play, That Dorothy Parker weaves together hilarious anecdotes of the ten years she spent lunching at New York's famed Algonquin Round Table, her relationship with Hemingway and scores of other men, her involvement in the Spanish Civil war, and selections of her writing.
The story takes place on January 24, 1943, the day after the death of her dear friend Alexander Woollcott. Dorothy comes to the lobby of the Algonquin Hotel to mourn his passing, and in doing so she encounters a group of gawkers (the audience) and begins to reminisce about her life. That Dorothy Parker is a witty, biting, touching slice of literary history.
Carol became fascinated with Dorothy Parker's life and work while researching the Vaudeville Era for her comedy troupe, Comedy On Wry, and stumbling across a wickedly funny piece called The Waltz. The show was conceived in the summer of 1998 and has since been developed, performed and expanded.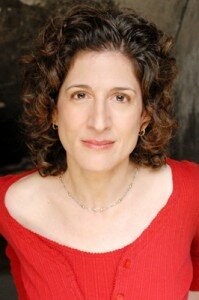 Carol Lempert has written and performed three award-winning one-woman shows. She will premiere her latest work After Anne Frank at Fringenyc in August 2011 and again at the UnitedSolo Festival in November at Theatre Row in New York. S
he has also created The Camino: Walking the Pilgrim Road and of course, That Dorothy Parker. Other New York Theatre includes The Aaronsville Woman at the Abingdon Theatre dir, Janice L. Goldberg; Shlomo for Folksbiene dir, David Schechter; Somewhere Men are Laughing for FringeNYC 2007 dir, Bill Russell; The McCreary's for BMI; and Wash and Dry for Artistic New Direction's Eclectic Shorts Festival at the Bridge Theatre.
She has twice starred in Crossing Delancey, with Sylvia Kauders from the original Broadway production Lusia in A Shayna Maidel; and Edith Frank in The Diary of Anne Frank, in Toronto. Television/film includes: All My Children, Santa Who with Leslie Nielsen, Bless the Child, Wonderland, 26 episodes of Rockabye Bubble for the Family Channel, 13 episodes of Hello, Mrs. Cherrywinkle for TVO, as well as numerous television commercials.
Awards include: Emerging Artist from the Toronto Arts Council, Best Solo Drama and Best of the Fest from the San Francisco Fringe Festival, and Outstanding Performer from the Toronto's NOW Magazine. Carol was also nominated for a Canadian Comedy Award for her work in an earlier version of That Dorothy Parker. Charming. Ms. Lempert gives a lovely, resonant performance as Parker, the acerbic critic, poet and general wit, and covers the peaks and valleys of her career and life. The New York Times
Carol Lempert's one-woman show….. delivers a beautifully modulated turn as the woman who, as one of the wits of the Algonquin Round Table, helped define her literary times….The piece captures the spirit of a writer who was far more than the witticisms ("Men don't make passes at girls who wear glasses") that made her famous. New York Post
Lempert's Parker sparkles. Backstage.com Lempert is a fine and versatile actress. Her Dotty sparkles, full of life and desperate for a good time that never seems to come….Lempert-as-Dorothy also impersonates many of her Round Table raconteurs with practiced aplomb….Janice Goldberg directs wonderfully- every moment is clear and effective….It's a very entertaining show, with something for both Dotty tyros and diehard Parker fans to enjoy. Broadwayworld.com
Parker once said in a theater review that Katharine Hepburn "ran the whole gamut of emotions from A to B." Ms. Lempert is safe on that count: She and Ms. Goldberg sketch out an entire lifetime, from bashful girlhood to the thick-footed walk of a middle-age drunkard. … here comes the petite and clear-eyed Ms. Lempert…crisply produced, scrupulously sincere tribute to a major figure in American letters. What on earth is it doing at the New York International Fringe Festival? Ms. Lempert is not afraid to spotlight Parker's more wanton, self-destructive behavior… (Men do a lot more than make passes here). The New York Sun
Well worth seeing. The Villager
As a famous wit, her one-liners are readily available, and Lempert delivers the lines with finesse. Some of the best moments are when Lempert faces the audience and delivers Parker's verse….Lempert handles Parker's drinking habit adeptly and delivers a three-dimensional Dorothy Parker, who is not only witty, but increasingly frantic, depressed, and needy as the day wears on and her onerous writing obligation (to write Woollcott's eulogy) calls. NYTheatre.com
Carol Lempert is absolutely sensational in That Dorothy Parker – Peter Filichia of Theatermania.com in newsmediamagazine.com
Under Janice L. Goldberg's lively direction …. Lempert (who plays all the characters) is a whirlwind, showing us Parker chasing her puppy through the Algonquin lobby, stalking handsome young men at cocktail parties, or absorbing yet another fresh heartbreak with a suicide attempt. TheatreMania.com
History of performances:
° Premiered at the Toronto Fringe, July 1998.
° Remounted at Canadian Stage – Toronto, May 1999.
° San Francisco Fringe, September 2000
° Pick of the Fringe San Francisco, October 2000
° Theatre Aquarius – Hamilton Ontario, January 2002
° Plays in Progress, Artistic New Directions at the Bridge Theatre – New York, February 2007
° Algonquin Theatre Productions – New York, May 2008
° FringeNYC – SoHo Playhouse, New York, August 2008
° FringeNYC Encore Series – SoHo Playhouse, New York, September 2008
° Puffin Foundation – The Puffin Cultural Forum. November 2010.
° The College Club of Ridgewood – Ridgewood New Jersey. November 2010